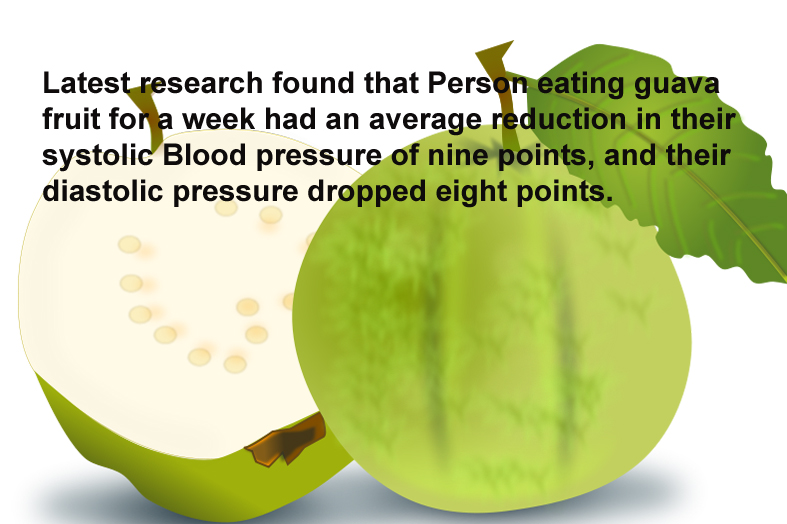 Recently I came across an article about the Guava fruit reduces blood pressure. It's really interesting because guava is a very common fruit available in market.
Guava considered as a super fruit for its rich antioxidants, including vitamin C, polyphenols and caratenoids. Guavas fruit is a dietary fiber contains important minerals, potassium in the amount of 688 mg, copper in the amount of 0.4 mg.
Guava is a delicious tropical fruit that is packed with potassium and more than twice the vitamin c as like orange.Researchers in India found that guava fruit has positive effects on reducing blood pressure.
Reason why Guava fruit reduce Blood pressure
Guava fruit is very rich in fiber.
Guava fruit helps to reduce cholesterol level .
Guava fruit contain high potassium content.
Guava fruit is hypoglycemic in nature.
Guava fruit help in heart beat steady.
Guava fruit decrease the risk of heart attack.
Guava fruit provide blood vessels healthy.
Guava fruit reduces Blood pressure
Consumption of guava fruit can cause a substantial reduction in Blood Pressure, blood lipids and decrease in HDL Cholesterol due to its higher potassium and soluble fiber content. Guava helps to reduce cholesterol level in the blood and maintains the fluidity of blood.Guava being very rich in fiber and hypoglycemic in nature, helps reducing blood pressure.
High blood pressure is a risk factor for heart disease, congestive heart failure and stroke, thus regular excessive consumption of guava fruit might decrease the risk of heart attack.
A banana and a guava fruit contains almost the same amount of potassium. Potassium helps your heart beat steadily and vitamin C keeps our blood vessels healthy . 55 gram guava provides 229 milligrams of potassium and only 1 milligram of sodium that results in preventing hyper-tension.
Latest research found that Person eating guava fruit for a week had an average reduction in systolic blood pressure of nine points and diastolic pressure dropped eight points.