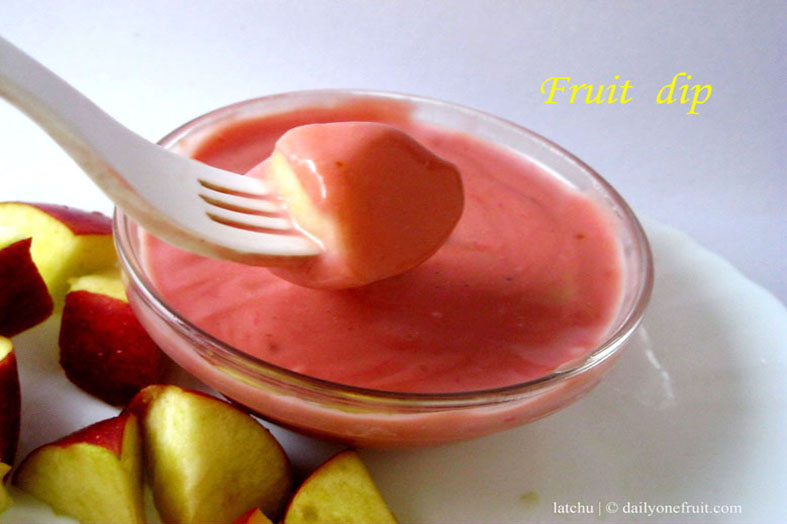 Kids special – 1  Nowadays its really a challenging task for every mother to go behind and feed fruits for kids .For those persons this section might be interesting.kids mostly like fruits But there are some kids running way from fruits,so thought of putting a new section for kids ,just few interesting ideas, how to present fruits in a healthy way.
Eating raw apple might be difficult for everyone ,how about a dip as a side dish for fruit salad?i taught of making a dip with strawberry chess flavor .Strawberry  dip is my favorite bread spread ,i just love to make any recipe with cheese.Strawberry chess dip does not take much time to prepare just mixing chess ,thats it.Strawberry dip with apple will be a perfect combination to serve.
Marshmallow Free Strawberry Fruit dip
Ingredient
Cheese –  1 cup
Brown Sugar-6 tbsp
Sugar – 6 tbsp (optional)
Vanilla powder – 1 tbsp
milk cream-2 tbsp
strawberry essence -2 tbsp
Marshmallow Free Strawberry Fruit dip
Select cream cheese for best result , mix brown sugar with the cheese. mix cheese until all lumps dissolve and you will get a pure creamy mix with a caramel flavor.

Add one tbsp vanilla powder with the mixture for a good taste.

Add milk or fresh cream with the cheese to get a smoothy paste . Add strawberry essence with the mixture ,wipe it for 10 min for better result . Thats it your strawberry dip is ready to serve.
note:
Instead of brown sugar we shall Add white sugar powder / icing sugar ,I have Added brown sugar for caramel flavor.
This Marshmallow Free recipe can be stored in fridge for 1 week.
Usually for a dip we use  marshmallow cream but this is a marshmallow free recipe.
Do not add water to the dip .
Instead of strawberry essence you can also use strawberry powder for make this strawberry fruit dip.