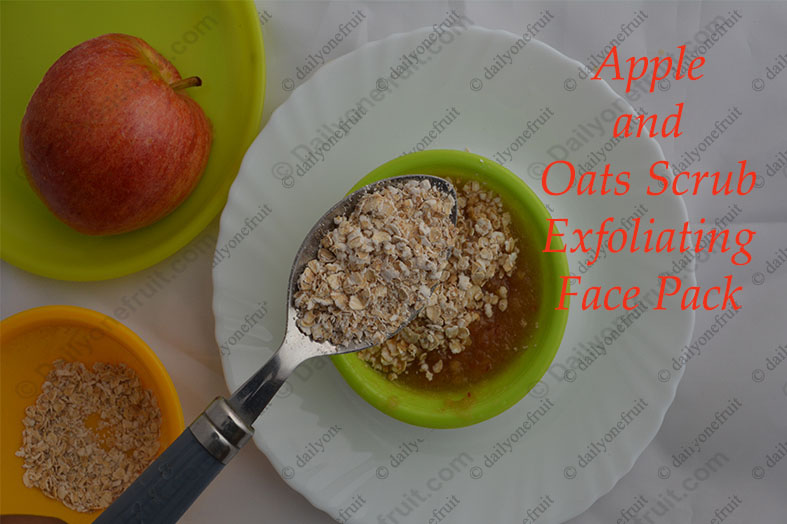 Sometimes excess oil can cause blackheads, bacterial inflammations, dark skin, itchy skin.Exfoliating skin once a week shall remove excess oil, impurities, dirt, infected dead cells.When exfoliating our skin give a slightly massage with circular motion to cleanse the skin. After exfoliating it is necessary to maintain the skin by using moisturizer so that skin hydration shall be maintained.
Some common reasons for skin pores blockage are
Accumulation of dead and dry cells
Excess oil intake and application over skin
Dehydrated skin
Hormones
Excessive sweating
increased oil production by skin
bacterial infection
Exfoliating pack makes our skin feel smooth silky and also improves skin structure make it feels soft.Removing more dead cells on the surface brings the growing new cells visible. Using scrub exfoliate your skin prevent from getting pimples.Our skin can feel much better when we remove excess oil accumulated over the skin outer layer. These pores drop oil under the skin surface which lead to acne breakout
Fruit Exfoliating Face Pack and Scrub at Home treat many skin problems for itchy skin, dehydrated skin, sensitive skin.scrubs available at home are considered to be naturally beneficial ingredient for curing lot of skin diseases without any chemical reactions. Homemade face scrubs provide good nourishing, soothing property. Very popular common natural homemade scrub are – Baking soda, oatmeal, rice powder, brown sugar, white sugar, coffee, salt, wheat flour.
Best ingredients to exfoliate our skin, at home are
Sugar
Oats
Raw sugar which we use in our Kitchen act as best Scrub to remove dead cells and also moisturize our skin to look fresh, clean and young. Sugar used in lot of cosmetics like skin peels. Sugar molecules have glycolic acid that help to renew the cells. Raw sugar scrub make our skin feel smooth and bright
Oatmeal scrub suitable for all type of skin especially oatmeal Scrub suits for thin and dedicated skin. Oatmeal scrub result in providing good soothing and anti-inflammatory. Oatmeal is considered to be a good exfoliating agent for sensitive and mature skin that provide good moisturizer and vitamin E and also that hold good antioxidant.
Exfoliating Face Pack and Scrub like Apple and Oatmeal,Tomato and Sugar,Lemon and Green Tea exfoliating,Orange and Sugar exfoliating face pack prepared easily at home.
Top 5 Fruit Exfoliating Face Pack and Scrub at Home
Chemical scrubs may cause some harmful chemical reaction over sensitive skin. Whereas Fruit Exfoliating Face Pack and Scrub at Home like oats remove the dirt, impurities from epidermis layer without any chemical reaction even on sensitive skin or itchy skin. Oatmeal scrub application once a week shall treat many skin conditions light sensitive skin without any chemical reactions. These oat scrub rejuvenate and sooth even dry skin.
Apple and Oat Scrub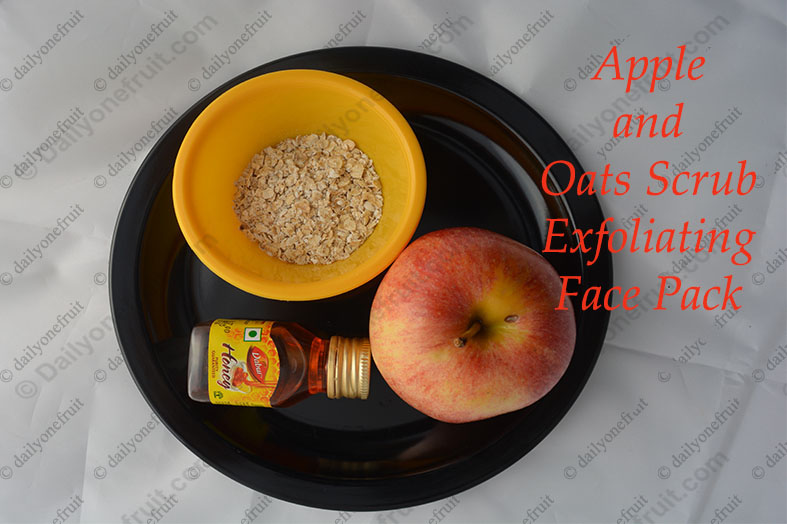 Take half apple and prepare thick apple paste. Take one tablespoon of oatmeal, one tablespoon of honey and mix with apple paste to make a thick binding scrub. This nourishing homemade face scrub removes dead cells and impurities from the skin that make skin look youth and clear. Apply the smooth paste over face, neck, hand, feet hand and give gentle scrubbing movement for 15 minutes and wash the pack with clear water.ReadMore
Tomato Scrub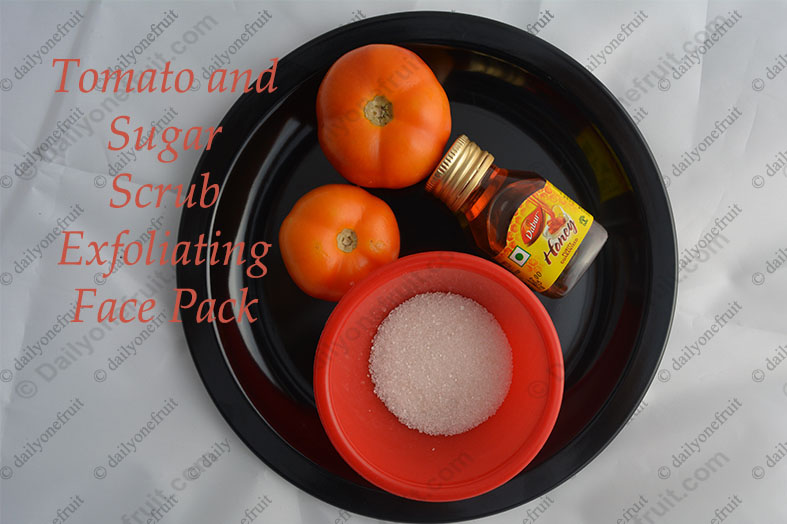 Take one tomato smash it with hands add 6 tablespoon of sugar and one tablespoon of honey. Mix well, apply this paste over face, hand, neck, feet give a circular scrubbing motion for 5 minutes and remove the pack with normal water.In case of sensitive skin take a cotton and dip in this mixture. wipe the Cotton all over the face and infected areas for 3 minutes and wash with normal water.ReadMore
Lemon and Sugar exfoliating face pack and Scrub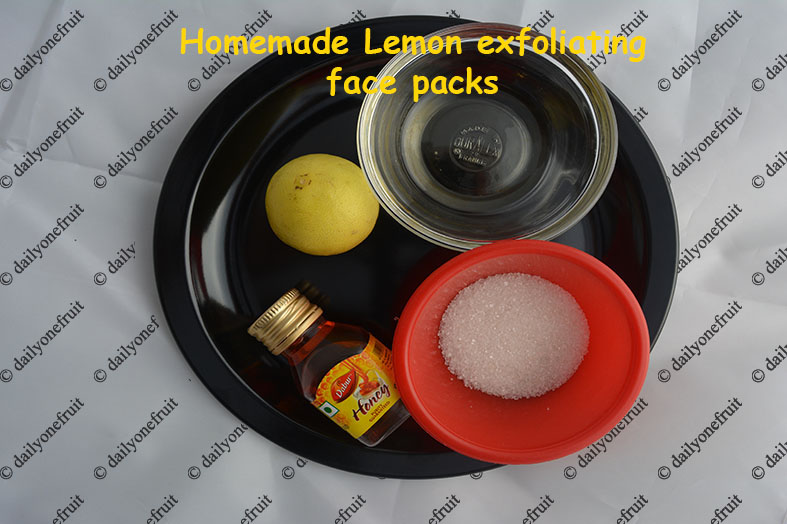 Add 2 tablespoon of lemon juice and 4 table spoon of sugar. mix both well and add olive oil make a thick paste. Apply this scrub paste gently over the face, hand, neck, foot skin, give a gentle circular upward movement. leave the pack for 10 minutes. Once it is set remove the pack with normal water. This pack shall provide oil free, fair, young, moisturize, cleanse effect. Best pack to eliminate dirt and making skin look brighter.ReadMore
Orange Scrub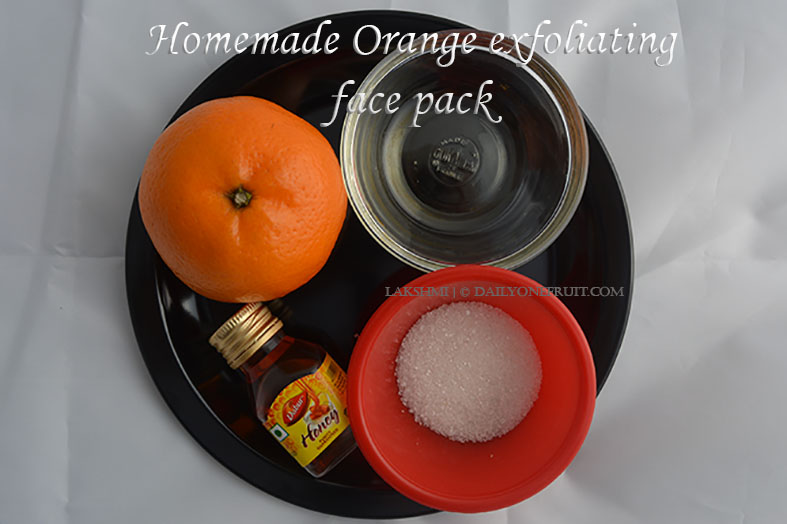 Main ingredients for preparing this pack orange Honey sugar olive oil.take 3 tablespoon of orange juice in a bowl and had 3 tablespoon of sugar equal proportion. Add 1 teaspoon of honey and 3 tablespoon of olive oil with orange juice and sugar. Mix them well make sure that the pack is thick, solid paste. apply on your face, hand,neck, feet with the gentle scrubbing(exfoliating) upward and circular motion.
 Leave the pack for 15 minutes and wash with normal water.This pack is mainly used to remove sun tan, impurities, makeup, dead cells, anti-bacterial infections. Choosing this scrub also provide good skin texture, skin glowing, bright look, skin lightening.ReadMore
Lemon and Green Tea  Scrub

Prepare green tea(soak green tea leaves in water for 10 minutes).
Take 4-5 tablespoon of rice flour, 2 tablespoon of lemon juice and 3 tablespoon of green tea. Mix well to make a thick paste. Apply this pack on face , give a scrubbing moment to remove dead cells.For 15 minutes leave the pack to set. Wash the pack from face with normal water.Apply mild moisturizer after using this pack.Readmore